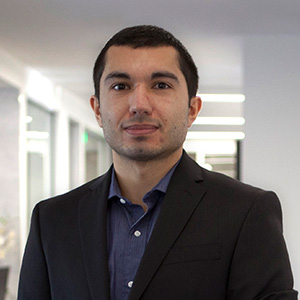 An Engineering graduate from Cal Poly, with an emphasis in hydrology and hydraulic analysis, Andrew Duarte has enjoyed a wide range of projects during his tenure at dk. From working on storm water management systems, residential subdivision design and commercial developments, he loves the variety of what he does each day.
Andrew says he was driven to the field of Engineering by a desire to help improve the quality of life of the people in communities around him. He credits family, friends, coaches and co-workers as mentors at different points in his life, each who have helped shape him to learn different skills in order to succeed.
When he's not working, Andrew leads an active lifestyle spending most of his free time hiking, camping or at the beach. In celebration of Global Engineers worldwide – and those professionals right here at home— dk NEXT asks Andrew about his career influences and his outlook in the field of Engineering.
1. What's your favorite thing about working for dk and the most memorable project thus far?
My favorite thing about working at dk is the variety of projects and experience available to me. I work on projects ranging from a single home to large scale wind farms sometimes within the same day. The first wind farm project I designed was a very memorable project, in part due to the vast size of the site in comparison to other jobs I have worked on. It's rewarding knowing the project I designed will provide clean wind energy for hundreds of thousands of people.
2. What are the skills you believe are most important for an Engineer to possess?
The number one skill for an Engineer to possess is the ability to break down a problem into its individual components and analyze different solutions to determine the most effective approach.
3. In general, what are the most daunting global challenges for Engineers in the next 25 years?
The greatest challenge facing civil engineers in the near future is the ability to adapt to a changing world. Sea level rise and the associated threat to the infrastructure of coastal cities will be a test for civil engineers all over the world.
4. What are the benefits you would tell a young person becoming an Engineer?
The work is very satisfying. It's awesome to know that your hard work and efforts had an actual impact on other people's lives.
5. Are there specific activities you would suggest to young people who may be interested in a career in Engineering?
Pick up some hobbies that allow you to work with your hands. Join sports or other teams to develop the people skills needed to succeed in the Engineering fields.
6. When you tell people about your job, what's one thing that surprises them, or gets them excited about the work you do?
One thing people find exciting about my job is our emphasis on renewable energies and sustainability. It is a field that generates a lot of enthusiasm from people of all backgrounds.