Aerial Drone Photography—an unmanned camera that can fly sky-high—is a break-through development in aerial photography in the 21st century. This technology makes taking aerial photos a lot easier. Drone photography is now used for commercial purposes, too, especially in the geospatial industry. The variety of sensors and cameras drones have to offer allows professionals to collect aerial data for mapping.
Surveyors today use Aerial Drone Photography for photogrammetry, a technique for drone mapping. It makes surveying large areas in high-resolution much easier. The quality of images for this process is crucial because it affects the accuracy of the final output.
Techniques for Mapping Large Areas
A couple of years ago, you would have needed to fly to a specific area using a manned aircraft to get a highly accurate and high resolution aerial photogrammetric map. Now that you have Aerial Drone Photography, mapping large areas has become quicker, safer, and more cost-efficient without sacrificing image quality.
In drone mapping, however, remember that you have to take time to save time. Large areas have unique challenges you might face during the process. These challenges include:
Keeping a line of sight
Optimizing battery life
Ensuring safety
Careful planning for your Aerial Drone Photography is essential to make sure you get the high-quality output without blurred images or gaps in coverage. Mistakes would delay the project and you wouldn't be able to produce accurate results.
Here are five ways to help you map large areas smoothly:
Identify barriers through satellite and sectional maps. This eliminates any surprises, like a tree line or other obstructions that may come out during the mapping process. Such obstructions are likely to cause an unsafe situation and affect the flight time of your device because the operator has to make adjustments.
Utilize a checklist. Check the weather and wind speed, know which radio tower you need to contact if you're in a restricted fly area, clean and format all your SD cards, do a safety check of your drone for any damages, have a co-pilot to keep a line of sight if the area is large, and notify any property owners in the area if you potentially need to fly over their property.
Optimize battery life. You should have a plan for charging and rotating your batteries. Decide on your battery swap locations before the mapping and drive to them as you progress. The optimization of your battery life will vary based on the type of drone you're using.
Maintain safety. Make sure your team and equipment are safe during the entire mapping process. Otherwise, the industry's reputation will be put in a bad light. Avoid risks such as flying in unsafe weather conditions which could lead to accidents and damage to your equipment. Always inspect your device before and after each use to avoid dangerous malfunctions.
Check data in the field. Technical issues, such as malfunctioning of cameras, geotagging of images inaccurately, and producing overexposed images, may arise during operation. Check the data you have collected while you're still on-site to correct any mistake right away. Bring multiple SD cards during the mapping and swap cards every flight. Have a team member move the data from the previous mission to the computer and check if there's an issue.
Aerial Drone Photography not only makes mapping quick and easy, these devices also make photogrammetry cost-efficient while keeping your images in high-resolution.
An Affordable Alternative for Aerial Imaging Surveys
Aerial Drone Photography allows you to collect aerial data without spending a fortune, unlike traditional aerial or land surveying. This technique only requires you to have a camera-equipped drone, which is accessible and affordable.
The price of a camera-equipped drone ranges from $2,000 to $5,000, which includes a selection of multirotor devices. Drones with Real-Time Kinematic (RTK) and Post Processing Kinematic (PPK) technology cost between $5,000 and $20,000.
RTK and PPK are popular acronyms when it comes to drone mapping. Each of them affects the data and its acquisition for each survey. These technologies are under GPS correction technology, which enhances the quality of location data through global positioning system receivers to deliver accurate data.
RTK delivers real-time corrections to location while the mapping drone is capturing photos of a site. PPK, on the other hand, corrects location data after they have been captured and uploaded.
Moreover, a mapping drone can fly a 100-acre job site in 20 minutes. A manned survey team usually takes one to two months to complete such a task. This means a client has to pay the surveying team continuously until the completion of the project.
A traditional photogrammetrist can be a cost-effective option for large sites. However, it depends on their schedule and turn-around time. Typically, 4-6 weeks after flight.
Time to Take Flight? What to Look for in a Drone Operator
Several companies provide drone mapping services. If you're new to this service, find an experienced operator to help you map a specific area. Here are three important factors to consider when hiring drone mapping services:
Check the operator's credentials. It's essential to ensure that the operator you're working with has an FAA license and insurance to operate mapping drones. Ask for copies of their permission for aerial work to confirm their legality.
Be specific about what you're buying. Operators provide different packages so you and the operator must be on the same page. For example, if you're only looking for video, clarify whether you'll receive a finished graded video or only the raw footage, which you have to edit yourself. You also need to confirm what kind of camera the operator will use and if there is a specific safety kit required for the area you need to survey. Other options to purchase are ortho images, topographic mapping including contours, and bird's eye photographs around the site for presentation purposes.
Ensure the operator's equipment can deliver the output you need. Mapping projects may have unique requirements so it's important to know whether or not the operator can meet your requirements. For instance, a small drone equipped with a GoPro camera won't deliver high-quality images. Some operators might also not have the capabilities to fly in more challenging conditions.
Although drone mapping is accessible and more affordable than traditional aerial photography, you have to ensure you're working with an experienced operator. This helps you maximize your budget and receive high-resolution results.
Work with Established Drone Mapping Operators
dk Engineering offers drone services for various purposes, including topographic mapping, site planning, and image-based mapping, among others. Our team is composed of Federal Aviation Administration (FAA) license holders fully trained in safety standards who have completed a significant number of flights in the last couple of years without any safety incidents.
Hiring surveyors to do drone mapping ensures higher quality of mapping because we're experienced and trained in obtaining high precision data. Every job is verified to be accurate by traditional surveying techniques.
Here's a drone's eye view of our ongoing progress at Anderson Ranch in Napa Calif. – a 35-lot single-family neighborhood by developer Davidon Homes.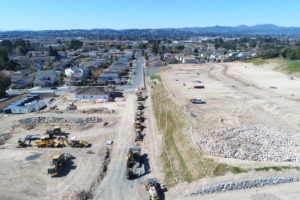 Surveying is all about collecting highly accurate data and drones can do that safely, in a variety of ways and in a fraction of the time. Watch this video to see how Aerial Drone Photography aided the team at Anderson Ranch in designing a project in harmony with its surrounding context of preserved open space, hillside grasslands and adjacent single-family homes.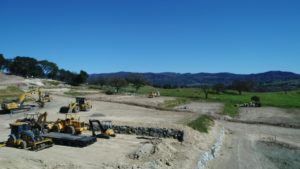 Is there a project where Aerial Drone Photography allowed you to survey a large area quicker and more safely with better mapping results than traditional aerial photography? We'd love to hear about it.
dk Engineering can help you to map locations that are difficult or unsafe to access to gather aerial data in high-resolution at an affordable cost.  Contact us to know more.